Ecstasy Unveiled
Series: Demonica #4
by Larissa Ione
Published by Grand Central Publishing, Hachette Genres: Paranormal Romance
Format: Paperback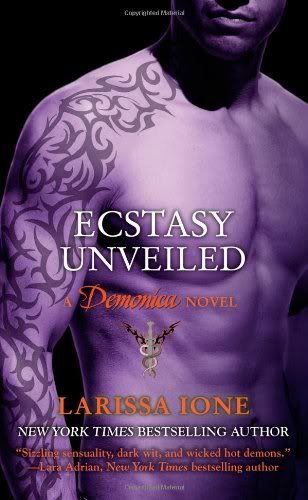 Title:
Ecstasy Unveiled
Series: Demonica #4
Publisher: Forever
Genre: Paranormal Romance
Published: January 26, 2010
Source: Purchase
Rating: 4 of 5
From Goodreads: A DEMON ENSLAVED
Lore is a Seminus half-breed demon who has been forced to act as his dark master's assassin. Now to earn his freedom and save his sister's life, he must complete one last kill. Powerful and ruthless, he'll stop at nothing to carry out this deadly mission.
AN ANGEL TEMPTED
Idess is an earthbound angel with a wild side, sworn to protect the human Lore is targeting. She's determined to thwart her wickedly handsome adversary by any means necessary-even if that means risking her vow of eternal chastity. But what begins as a simple seduction soon turns into a passion that leaves both angel and demon craving complete surrender.
Torn between duty and desire, Lore and Idess must join forces as they battle their attraction for each other. Because an enemy from the past is rising again-one hellbent on vengeance and unthinkable destruction.
I'm having a very hard time writing this review.  Maybe it's because I waited too long in between books.  Not my fault!  I had a heck of a time trying to find this book!  My stinkin' B&N never had it in!  I had to drive 2 hours to find it (yes, I'm well aware of this thing called "ordering online" but I'm an instant-gratification kind of gal).
My main problem is that this story was slow to start.  It was almost as if the series was about to end at the last book, Passion Unleashed (Wraith and Serena's story) and it needed a bit of building up to get going into the next story arc.
But other than that, this was another great book in Larissa Ione's Demonica series.  Like a lot of other reviewers, I loved how Lore had very little experience in his life with tenderness and intimacy despite having to always satiate his seminus demon side's needs.  And not to get too "preachy" (because you just don't talk religion in mixed company), I'm pleased with the way Ione stays true to her character's traits, especially when it came to Idess.  I was impressed with Lore and Idess's conversation about why people die and miracles.  Idess was Idess straight through to the end.  Spot on…