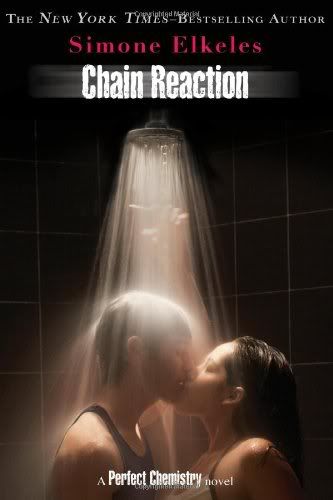 Title: Chain Reaction
Series: Perfect Chemistry #3
Author: Simone Elkeles
Genre: YA
Publisher: Walker Books
Published: August 16, 2011
Source: Purchase
Rating: 4 of 5 Hearts
From Goodreads: Luis Fuentes has always been sheltered from the gang violence that nearly destroyed his brothers' lives. But that didn't stop him from taking risks—whether he's scaling a mountain in the Rockies or dreaming of a future as an astronaut, Luis can't stop looking for the next thrill.
Nikki Cruz lives her life by three rules—boys lie to get their way, don't trust a boy who says "I love you," and never date a boy from the south side of Fairfield. Her parents may be from Mexico, but as a doctor's daughter, she has more in common with her north-side neighbors than the Latino Blood at her school. Then she meets Luis at Alex's wedding, and suddenly, she's tempted to break all her rules.
Getting Nikki to take a chance on a southsider is Luis's biggest challenge, until he finds himself targeted by Chuy Soto, the new head of the Latino Blood. When Chuy reveals a disturbing secret about Luis's family, the youngest Fuentes finds himself questioning everything he's ever believed to be true. Will his feelings for Nikki be enough to stop Luis from entering a dark and violent world and permanently living on the edge? 
You say you've never heard of the Perfect Chemistry series?  Who are the Fuentes brothers? Come out from under that rock already!!!  Even if you're not a fan of YA, you will enjoy/like/love/obsess over this series (take your pick)!!! 
Even though this was not my favorite out of the three books in the series, I still really liked this book.  I love Elkeles writing style, her pacing, and the depth to her stories.  The only reason why I didn't enjoy this story as much as previous ones is because Luis got a little too predictable for my tastes.  I found myself wanting to smack him up-side his head for his decisions.  But well written stories make you feel strong emotions towards their characters (unless it's a horrible book, then it's strong emotions towards the author).  Bully to Elkeles for making me feel for this couple in the end!  She can write a love story!!! 
Um… I've got nothing else… just read the series already!!!  When you get to this one, read it for the closure for all the characters ~ you'll be glad you did!