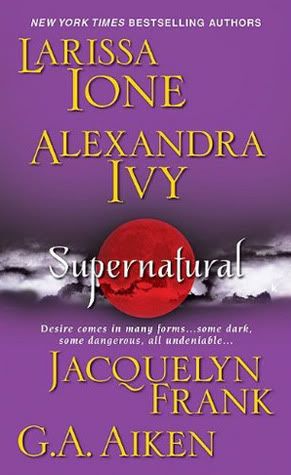 Title: Supernatural
Series: Lords of Deliverance 1.5, Demonica 5.5, Guardians of Eternity 7.5, Nightwalkers 1.5, Dragon Kin 4.5
Authors: Larissa Ione, Alexandra Ivy, Jacquelyn Frank, G.A. Aiken
Genre: PNR
Publisher: Zebra (Kensington Publishing Corp)
Published: August 30, 2011
Source: Goodreads Giveaway from Kensington
Rating: 4 of 5 Hearts
From Goodreads: Contains a Demonica/Lords of Deliverance story from Larissa Ione, a Nightwalkers story from Jacquelyn Frank, a Guardians of Eternity Story from Alexandra Ivy, and a Dragon Kin story from G.A. Aiken.
"Vampire Fight Club" by Larissa Ione:
When a wave of violence forces shapeshifter Vladlena to go undercover, her first stop is a haven of vice – with a dangerously sexy vamp in charge. Both Vladlena and Nathan are hiding something, but they can't conceal the lust that simmers between them…
"Darkness Eternal" by Alexandra Ivy
After being held captive by one vampire for four centuries, Kata had no intention of taking another one to the underworld with her. Yet even in the pits of hell, there's no ignoring the intoxicating desire awakened by his touch…
"Kane" by Jacquelyn Frank
Kane knows Corrine was meant to be his… just as he knows that truly possessing the lovely human is forbidden. But on the night of the Samhain moon, the beast in every demon is stronger than reason, and Kane's hunger is more powerful than any punishment…
"Dragon on Top" by G.A. Aiken
Escorting the highborn Bram through deadly Sand Dragon territory will try Ghleanna's patience… and her resolve. For Bram is determined to enhance the journey with a seduction no female could resist…
Disclaimer: I LOVE ANTHOLOGIES!  I don't buy all that many and it's really a shame.  I truly believe they are a great way for a newer reader, such as myself, to get a taste of authors that someone has recommended without shelling out big bucks.   Or you can discover new authors by finding an anthology with an author whose style you like.  The other authors included should be in the same style.  Score!  New authors to follow.  
I was extremely lucky to receive this book from a Goodreads giveaway – yep, people actually win those!  It took quite a bit of time to actually receive my book but I think that just made me look forward to it that much more.   
"Vampire Fight Club": Already being a fan of Larissa Ione and knee deep into the Demonica and Lords of Deliverance series, I read Larissa Ione's story right after I finished her book Sin Undone.  I loved Vladlena's story because I remembered the character from the series and I think I remembered her "affliction".  All the Demonica series regulars make appearances (yay!) and there's even a nice taste of LOD in case you haven't gotten into that series yet. 5/5  
"Darkness Eternal": Alexandra Ivy is an author I'm not familiar with.  I liked that characters from this story and the world seemed pretty unique in it's own ways.  I just really had a problem following the p.o.v. as it changed back and forth between Kata and Uriel.  Call me simple minded but I do better when there are chapter breaks or some sort of delineation in the chapter to show the p.o.v. is changing.  This story didn't do that and I got confused at times.  If there weren't really changes of p.o.v., then color me thoroughly confused!  The story just wasn't very strong, either.  2/5 
"Kane": Another author that was completely new to me is Jacquelyn Frank.  I will be adding her to my looming TBR pile.  This was a unique love story set in a world I'm really interested in learning more about.  I'm not all that big on demons but the way their world seems to be structured different than anything else I've seen before has me intrigued.  The story between Kane and Corinne is more cerebral than "hot and heavy" but it's done really well with very little lagging.  4/5 
"Dragon on Top": I absolutely enjoyed this fun read!! Another series I'm adding to my TBR mountain!  G.A. Aiken writes a quick, sweet love story about opposites attracting.  I think I liked this story so much because I used to work in a male dominated field and I loved working with the "boys".  You'll just have to read the story to know what the heck I'm talking about.  Anyways, it was one of those stories that when I had to put it down, I was eagerly looking forward to picking it back up.  5/5