I am so excited I found this challenge!  I just bought Soul Screamers Vol. 1 a week before Christmas and lo and behold… a challenge so I can thoroughly enjoy this hugely popular series with a bunch of awesome people!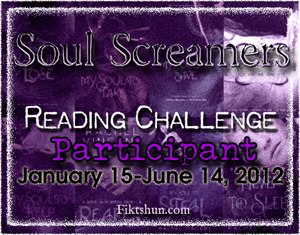 Rachel from Fiktshun.com is hosting the Soul Screamers Reading Challenge to get ready for the release of Before I Wake, anticipated to be released on June 22, 2012.  There are massive amounts of incentives to participate in this challenge, too!   Rachel, in her infinite wisdom, is giving away a ton of pre-orders of Before I Wake, as well as other goodies from the author herself, such as signed books and t-shirts.  Rachel Vincent has even promoted this challenge on her blog, as well, which I think is awfully cool. 
You do not need to be a blogger to participate.  If you're interested in joining in on this awesome challenge, just click on the badge or click on the link above.  And, duh, check back around February 14-ish (love) to see what I thought about My Soul to Lose and My Soul to Take.