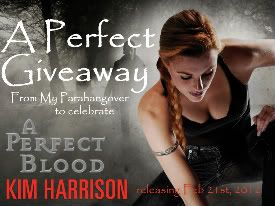 Well, I'm back at it!  On Wednesday I drove two hours to attend Kim Harrison's book signing for A Perfect Blood, out now!!!  This is an annual pilgrimage for me because I do it as part of my birthday celebration for myself.  I spend the day shopping, then hook up with my friend Nan (whom I met the first time I did this) for dinner or whatever, and then I go to the book signing and fawn.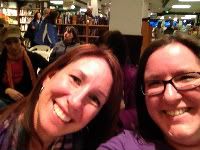 Wednesday was no different.  I stocked up majorly on books (see my IMM coming up on Sunday/Monday) and had dinner with Nan at a funky little place called The Ravens Club (you would if YOU could, check out the link!).  We met up with Jackie from Literary Escapism at Nicola's Bookstore and sat back for Kim's reading from A Perfect Blood (Kim picked an awesome piece between Rachel and Trent).  Kim did her usual Q&A and then it was book signing time!!  I was number 1 in line.  I'd much rather not be number 1 because I was completely unorganized!  Either way, I've got the goods and they're all yours!
I'm giving away signed copies of A Perfect Blood, Dead Witch Walking and Black Magic Sanction.  The winner of A Perfect Blood also gets a signed glow-in-the-dark poster for The Hollows Insider.  If that weren't enough, each winner gets a pack tattoo!!! 
The reason why I'm giving away the different books is because I noticed when I did my wrap up from last year, so many of you guys said things like, "I've been meaning to get around to that series!" or "I've gotten distracted and I'm behind in the series."  The Hollows series is a sentimental favorite of mine (it was one of the first series I ever read in the genre) so I want to spread the LOVE!
All I need to know is this ~ What book do you want and why?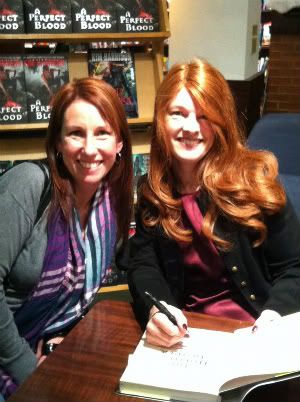 Just leave a comment below and you can enter to win one of these prizes.  I'll pick a winner and they'll have first choice on the book they want.  The next winner will have next choice and the last winner gets the leftovers (eh, not so bad, you're still a winner).  If you pick a book in the comments section, you CAN change your mind later!!!!!  I'll email you to ask your final choice!!  And I'm sooo sorry, I can only afford to open this to the US.  I paid for all these books so I'm going broke as it is (hee, hee). 
A great big huge Thank You to Kim Harrison for signing ALL my books, Guy for my poster and to the Nicola's staff helping at the signing (or whoever it was who slipped me all the pack tattoos without me knowing)!!!  
I'm done rambling… NOW GO ENTER THE GIVEAWAY!!!!