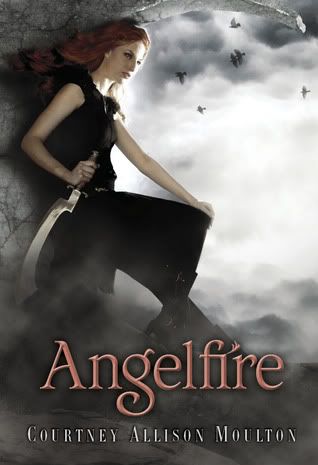 Title: Angelfire
Series: Angelfire #1
Author: Courtney Allison Moulton
Genre: YA
Publisher: Katherine Tegen Books
Published: February 15, 2011
Source: Purchase ~ 2012 TBR Reading Challenge
Rating: 4 of 5 hearts
From Goodreads: First there are nightmares.
Every night Ellie is haunted by terrifying dreams of monstrous creatures that are hunting her, killing her.
Then come the memories.
When Ellie meets Will, she feels on the verge of remembering something just beyond her grasp. His attention is intense and romantic, and Ellie feels like her soul has known him for centuries. On her seventeenth birthday, on a dark street at midnight, Will awakens Ellie's power, and she knows that she can fight the creatures that stalk her in the grim darkness. Only Will holds the key to Ellie's memories, whole lifetimes of them, and when she looks at him, she can no longer pretend anything was just a dream.
Now she must hunt.
Ellie has power that no one can match, and her role is to hunt and kill the reapers that prey on human souls. But in order to survive the dangerous and ancient battle of the angels and the Fallen, she must also hunt for the secrets of her past lives and truths that may be too frightening to remember.
What does a book review and the beginnings of my book blog have to do with each other?  Very cool story: I was at the Smart Chick Kick It tour stop in Lansing, Michigan last October.  I was sitting with my book signing buddy, Nan, and talking to three girls in front of me about the book blogging world.  I had been interested in blogging because I am such a book geek and I was totally eavesdropping on their conversations.  I started asking questions about blogging and these totally friendly, very energetic girls shared all sorts of information about blogging, Twitter, Tumblr and about how friendly the blogging community was.  They totally encouraged me to go for it and start blogging!!!   Then they gave me their cards with their blogs and email addresses on them.
Hang in there!  I'm getting to the part about the book!!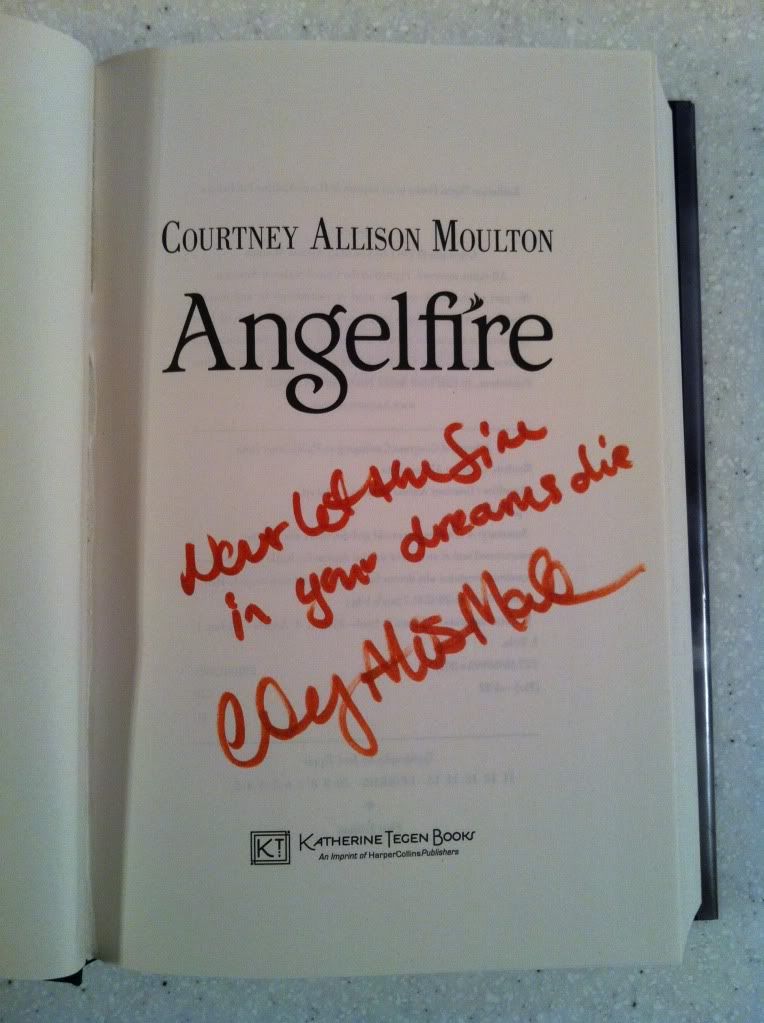 Turns out, I was talking to Stacey from Page Turners, Sara from The Hiding Spot and, um, Courtney Allison Moulton.  Stacey had to clue me in that it was, indeed, the author of Angelfire sitting with them and who'd I'd been talking to.  Well, holy crap!!!  Angelfire had been sitting my TBR pile since March 20th, 2011 (I looked it up).  So Nan and I ran to the bookshelves, bought 2 copies, and promptly ran back and groveled for her signature on our books.  Courtney completely unselfishly didn't mind signing them, despite being at the signing for "pleasure" not "work"!
Oh, and Kristi, The Story Siren, was sitting just on the other side of Courtney but I didn't get a chance to chat too much with her because she was so far away.  Eh, I had no clue who anyone was anyways.  I hadn't started blogging yet!
Fast forward to four months later and I can't begin to thank Sara, Stacey and Courtney for their kind words that one day that led me to a ton of awesome "friends" all over the world who share the same love of books as I do.
Oh… there's supposed to be a review in here somewhere! 
One thing I do after reading a book is compare the summary (or synopsis) on the back of the book, inside of the jacket, or on Goodreads to what the actual story was about.  A lot of times I find that the story's main plot points are nothing like what is highlighted in the summary.  But this time, it's pretty close.  But if you look at the actual Library of Congress summary on the inside, it actually adds a little "umph!" to the intrigue of the story: "A seventeen-year-old girl discovers she has the reincarnated soul of an ancient warrior destined to battle the reapers – monstrous creatures who devour humans and send their souls to Hell."  Well, "Hell", that just got a who lot creepier!!!!
Ellie is your not-so-typical 17 year old teenager.  She's from an affluent area just outside of Detroit where the norm is outrageous birthday parties and gifts of  $20k cars to teenagers.  I can totally picture this because I grew up in a town like this just outside Cleveland, Ohio.  I currently live outside Detroit so I know EXACTLY where this story is taking place (one of my favorite things when reading a book is knowing the setting of a book).  Since Ms. Moulton also lives in the area, she nailed the setting and kids perfectly!!  I could see many readers being turned off by Ellie's posh life but I think it's there for a reason.  I think Ms. Moulton uses it to contrast the life Ellie's soul has lived vs. her current life; how far she's going to have to go to remember her past lives.
The pacing of the story was good.  Details came forth at a good rate.  I became frustrated (okay, not really) right along with Ellie when Will wasn't telling Ellie much about himself.  Oh, I understood why.  You'd much rather have someone remember you than have to tell them about your relationship.  I just really liked Will so I wanted to know more, like, NOW!
The one nagging question I had while I was reading the book was why the fiercest, strongest warrior was living just outside of Detroit, MI.  I kept wondering if there were more of these warriors around the world.  I won't answer that question.  I will say that I resolved my prickly little question by remembering that there were Hellmouths in Sunnydale, CA and Cleveland, OH (see Buffyverse) so we can have battles between reapers and the Preliator outside Detroit.  Hey, it's all about using your imagination!
Towards the end we get the addition of some awesome characters and some really cool revelations.  Some things that I thought were going to happen didn't happen, which removed predictability from the book.  Overall, this was a fantastic debut novel with an intense world building that I can't wait to see develop in the next book of the series.