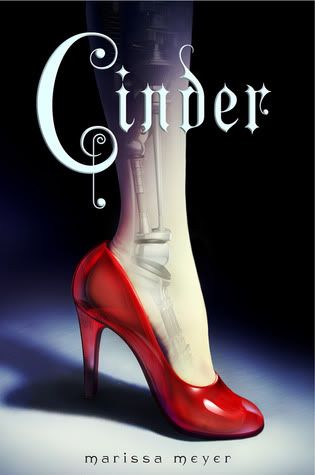 Title: Cinder
Series: Lunar Chronicles #1
Author: Marissa Meyer
Genre: YA
Published: January 3rd, 2012
Publisher: Feiwel & Friends
Source: Purchase
Rating: 4 of 5 hearts
From Goodreads: Humans and androids crowd the raucous streets of New Beijing. A deadly plague ravages the population. From space, a ruthless lunar people watch, waiting to make their move. No one knows that Earth's fate hinges on one girl. . . .
Cinder, a gifted mechanic, is a cyborg. She's a second-class citizen with a mysterious past, reviled by her stepmother and blamed for her stepsister's illness. But when her life becomes intertwined with the handsome Prince Kai's, she suddenly finds herself at the center of an intergalactic struggle, and a forbidden attraction. Caught between duty and freedom, loyalty and betrayal, she must uncover secrets about her past in order to protect her world's future.
Is this a re-telling of the classic fairytale Cinderella or not?  Hmmm… maybe?  Going into this book I sort of thought it was.  Very roughly, it is.  And I like it that way!!
Our Cinderella is Cinder and she's a cyborg.  I had to look up the definition of the word because I kept having flashbacks to Star Trek's borgs (yep, I'm that old).  In case you're curious, cyborg is short for cybernetic organism and it means a being with both biological and artificial body parts.
Because Cinder is not fully human, this makes her a second class citizen in this new, dystopian society.  Despite being mostly human, she's treated as property, especially by her stepmother and one of her two stepsisters.  This is the first obvious parallel to the classic Cinderella fairytale.  But there are subtle differences throughout the story.  Throughout the book I kept finding myself trying to figure out who was Cinder's fairy godmother, who were the mice, etc.  By the end of the book, I think I had them all figured out.
Prince Kai is not your typical, generic prince-charming type.  I like his complexity because you have to remember he's young (he's 19) but he is thrust into a position of great responsibility.  But the way he is introduced into the story is genius.  You hear the myth of the Prince first, then you meet the guy himself.  His character then unfolds throughout the book until the very end when you have no idea which way his character will go.
Dark, gritty, depressing, but full of hope.  This isn't a typical happy fairytale.  I wish I could say more but if this is the only review you read about this book (I know, highly unlikely), I don't want to spoil the ending for you.  I will just say that the wait is too long for the next book!
This was one of those books I kept seeing all over the blogs and hearing great things about it.  Honestly, if I saw it in the store on the shelf, I wouldn't have been moved to buy it.  In the end, I am so grateful to all my blogging friends that hyped up this book from the very beginning!  This was an extremely worthy read – worthy of purchasing the hardcover!!!
If you just want to try out Marissa Meyer's style of writing, you could always read Glitches (Lunar Chronicles #0.5).  It is a very short prequel to Cinder and you can find it on Tor.com here.