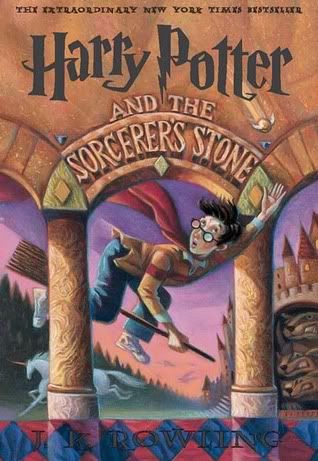 Title: Harry Potter and the Sorcerer's Stone
Original Title: Harry Potter and the Philosopher's Stone
Series: Harry Potter #1
Author: J.K. Rowling
Genre: MG, YA
Publisher: Scholastic
Published: June 30, 1997
Source: Purchase ~ 2012 HPRC
Rating: 4 of 5 hearts
Summary from the back cover: Harry Potter has never played a sport while flying on a broomstick.  He's never worn a cloak of invisibility, befriended a giant, or helped hatch a dragon.  All Harry knows is a miserable life with the Dursleys, his horrible aunt and uncle, and their abominable son, Dudley.  Harry's room is a tiny closet at the foot of the stairs, and he hasn't had a birthday party in eleven years. 
But all that is about to change when a mysterious letter arrives by owl messenger: a letter with an invitation to a wonderful place he never dreamed existed.  There he finds not only friends, aerial sports, and magic around every corner, but a great destiny that's been waiting for him… if Harry can survive the encounter.
Wow!  Is that what those actors have been saying
I never could understand British actors.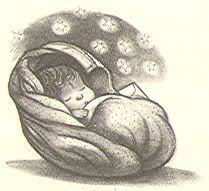 Seriously, what am I going to say about one of the most beloved series of all time?  This was NOT required reading when I went through school – I'm too old for that.  I'm reading this series both for my own pleasure and to get ready for when my five-year-old son is ready to read the series.  And yes, I do hope he wants to read this series and that he comes to love it just like all the bazillions of readers before him.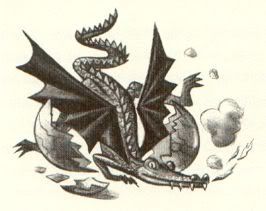 The writing is superb.  The unfolding of the story is the perfect speed for middle grade readers.  While some of the words are challenging, being that this is J.K. Rowling's world she's building, the sentence structure and narrator's "voice" makes the story easy to follow.  You immediately know what the character is talking about when they introduce a word you've never heard of (example: "Muggles").  It definitely helps the reader that you're discovering this new world right along with Harry, though.  Also making this book highly appealing to young readers (and myself) is that Ms. Rowling is able illustrate her setting quickly and keep a ton of dialogue in the story.  I never grew bored of this tightly written story.
Harry's despair in the beginning of the book was intense.  The workings of his great mind was extremely apparent throughout.  The book was much better than the movie – aren't they always?  I enjoyed the way the book played out the dragon dilemma and the scene in the Forbidden Forest with the centaurs.  And who doesn't love Neville?  He's such a good-hearted goof!