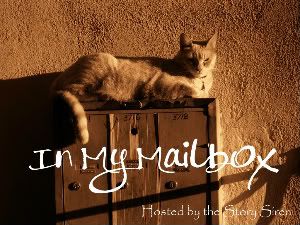 In My Mailbox is a weekly meme held over at The Story Siren.  It's a great way to let everyone know about the books that have come into your home the past week.  Whether you bought, borrowed, or received them for review, you share your loot and then hook up over at the The Story Siren. It's an awesome way to meet fellow bloggers and find new books to read. 
To say I've been asleep at the blogging wheel would be an understatement.  I "attended" the Book Bloggers and Publishers Online Conference a couple of weeks back (awesome!) and I came away with a new direction and ideas for my blog.  Well, none of it is going to be easy in Blogger so I'm getting ready to switch to WordPress.  That actually means I'm really busy doing other nonsense and I've been neglecting the whole blogging thing.  Until I get consistent, I don't deserve a new home….  at least that's how I feel about it.  So bear with me as I get my whole act together and work on my "mission statement" for my blog (yada yada yada…).
I did get some books this week!!!  I'm only buying e-books at the moment b/c I've got too much TBR on the shelves.  I'm not actually boycotting print books, though, b/c the thought of NOT buying a book I want would send me into tremors and convulsions.
Click on the images to bring up that title's Goodreads page or Amazon page if it was an ebook deal 🙂
I bought My Soul To Keep for the Soul Screamers Reading Challenge I'm participating in over at Fiktshun (ps. you must visit Fiktshun sometime if you're not familiar with the blog – she rocks the blogs!!).  Tell me if you have this problem: you go to the store (mine is B&N b/c it's the only "show" in town) to get the next book in the series and they NEVER have it!!!!!  Thank goodness for ebooks!!!!
Unholy Ghosts (Downside Ghosts) by Stacia Kane is only 99cents for the ebook right now!!! I've been wanting to start this series!!!
Before is a free short story by Cambria Hebert.  It takes place before Masquerade.  Cambria is participating in the Hounded Read-Along I'm doing right now and frankly, she's hella funny.  So I wanted to read some of her writing. 

And this is an AWESOME way to sample someone's writing for FREE!!!

Descended by Blood was one of the top free ebooks on Kindle so I nabbed it but it's $2.99 now 🙁  Same with The Changelings that I actually bought a while back.
Gone Daddy Gone is a short story in the Black Knight world of John G. Hartness.  I think I'm going to do a whole post on the series b/c it deserves more talk.
The Viscount and the Witch was a free ebook recommended to me by Silverlight.  She had a post of ebook deals a while back and I just asked what she recommended!
What books found a home at your house (or on your e-reader)
this week?