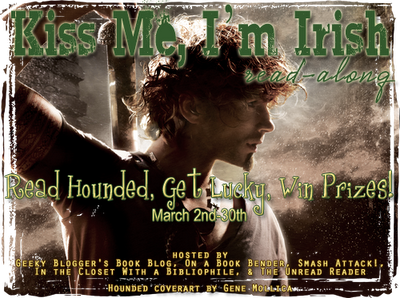 I am doing the best read-along right now!!!  I was so stoked to see one of my favorite urban fantasy authors and his series getting the proper respect they deserve!!  We are reading Kevin Hearne's Hounded (Iron Druid Chronicles #1) to prepare for his fourth release Tricked, due out on April 24th, 2012. 
This is a re-read for me but this series is so freaking hysterical that it is such a fun, enjoyable and relaxing read for me.  Kind of like sitting on the porch with a sweaty glass of Tullamore Dew (okay, my speed is more Smithwick's).
April 06th: Special interview with
Kevin Hearne
& announcement of winners!
IF YOU HAVEN'T READ THE SERIES!!!
Week 3 Discussion Questions:
1. I love Leif Helgarson, Viking Vampire, Esq. I have to say that combo makes a pretty cool attorney. If you could have a paranormal/mythical beastie (or combo) covering your tuckus in court, what would you choose and why?
While I love Leif, I'd have to go with Hal Hauk, the werewolf attorney.  Face it, he's more flexible because he can be available during the daylight hours as well as nighttime.  Can't they smell a lie, too?  Throw on top of that their fighting/winning spirit and you've got quite an advocate in your corner.
2. The police show up to question Atticus about his Irish Wolfhound, Oberon. If you could own any dog breed, what would it be and why? (P.S. Oberon is going on my list of favorite sidekicks!)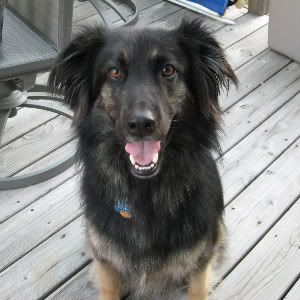 Oberon is most awesome – he has THE best personality, always thinking of the french poodles and the magic sausages.  But I think I'd want a little bit smaller dog.  Irish Wolfhounds are just too huge!!  Can you imagine what Oberon looked like curled up on that table hiding?  Not very small and hidden.  I'd be too nervous.  I like the size of my mutt right now.  He's part german shepherd, husky and border collie.  Take out the border collie (which we were NOT expecting in the first place, but hey, he's from the shelter) and my Lakota would be the perfect sidekick.  He can run forever on a hiking trail, big enough to scare bad guys away, and still curl up on the bed with me at night.  
3. Malina Sokolowski and the other Sisters of the Three Auroras coven have my antennae up. What is your opinion of them? 
I love to read about witches and haven't seen many evil witches in my reading so far.  So running across this coven giving Atticus trouble is kind of disconcerting to me (okay, I'm really bummed!).  Malina seems to not know what's going on but that could be all an act.  I think I believe Brighid at this point.  She has no reason to lie to Atticus… I don't think.  
4. Brighid, goddess of poetry, fire and the forge, gave Atticus the power of Cold Iron, which can be used to fight off that nasty little hellspawn. If you could wield one magical power, what would it be and why?
I would love to be able to move things – telekinesis!!  Just wave my hand and things would move.   I'd throw the bad guys into walls.  It would really come in handy at the grocery store, too ("Yes, person who WAS in front of me, you really meant to go to that line behind the lady buying the 100 individual cans of cat food").  
5. The cops show up at Atticus' shop to search for poor Oberon, who remains magically hidden throughout the ordeal. What is the one thing you would do if you could remain hidden from sight? I want to hear some good answers for this one!
I have to admit, I was intimidated with the threat of wanting to hear good answers on this one.  So I turned to my husband, who's also read the series, and asked for his help (it's not cheating!!).  While I was trying to figure a way to steal money from people at the ATM by spying their pin numbers, my husband went with the manly answer of checking out boobies.  We're not brilliant folk, by any means.  After some more thought, my husband wants to head to D.C. and spy on some backdoor, covert meetings to find out some of the dealings going on that we, joe public, don't know about.  Me?  I'm still figuring out the making money thing…  Oh, no, really, I'd probably figure out a way I could be a super hero and bust the teenage snots in the neighborhood who keep breaking into cars parked in the driveways at night stealing change out of the cars.  
I really am a deep person…