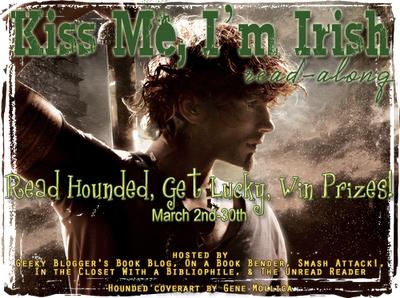 "Holy shit, boss!"  he said, 
"Did that big fucking bird do all of this?"
This is week 4 of the Hounded Read-along and my second week participating.  I want to say a great big freakin' HAPPY FRIDAY and thanks everybody for visiting me last week and commenting on my answers!!!  I hope I got around to everyone but if I didn't, I apologize up and down, left and right!!!  This is a ton of fun and I'm really enjoying everyone's answers!!  It's great to see what everyone thinks because, *cough, cough*, I know what happens since this is a re-read for me. 
 
Discussion Schedule:
April 06th: Special interview with
Kevin Hearne
& announcement of winners!
IF YOU HAVEN'T READ THE SERIES!!!
Week 4 Discussion Questions:
1.  Just after Atticus is shot, Oberon has to "ninja" his way out of the shop and into Hal's Beamer (with the icky air freshener). Have you ever been in a situation where you had to "ninja" your way out and try not to be discovered? If so, what happened?
Then: Back in college, I shared a bedroom in a apartment with a friend of mine.  We were cheap and most of the time, it wasn't a problem.  Until one time she came home drunk from the bars with a guy and didn't realize I was in the room sleeping… AWKWARD!  And yes, I made it out but not before my delicate ears were assaulted.
Now: I am guilty of crawling out of my son's bedroom on my belly to escape without him waking up and seeing me after I've sat with him to help him fall asleep.  It wasn't the fun way to get a rug burn.
 
2. Atticus's main goal through a large portion of the book is not only protecting Oberon, but also protecting the sword. You are now living in a paranormal world and you need a weapon! What weapon do you choose and what can it do? 
As I sit here next to my hubs playing his RPGs on Xbox, I've come up with the perfect weapon.  Okay, I may have gotten a little help but here it is: a magical gun that talks!!  This gun will have ammo that never runs out.  And the ammo will adjust to the needs of the shooter.  Okay, here's a word for you… symbiosis.  This gun knows how to kill all these paranormal creatures because it needs the essences or spirits of the creatures to continue to function.  And you can talk to this gun and tell it things like, "Okay, we need to be quiet so we don't wake up the Frost Giants" or "Can you fetch me a Yuengling?".
3.  To recharge and heal after being shot, Atticus sleeps naked, tattoos to the earth, in a patch of grass near the Civic Center in downtown Scottsdale. Where is the weirdest place you have ever slept?
I had to confirm this with my husband but apparently sleeping out on a lounge chair on my back patio is weird.  I used to do this when I was in Junior High and High School.  I'd just grab a comforter, pillow, extension cord and alarm clock and head to the backyard.  I actually plan on doing this with my son.  I don't think "Stick-in-the-Mud" will be joining us. 
4. We finally find out some very interesting information about Granuaile and I don't know about you, but I certainly wasn't expecting to find that she's sharing her head with someone else. What about you, did you expect anything along those lines? If not, what were you expecting concerning Granuaile?
Totally had her nailed as the third string bad guy!!  I was totally thinking love interest, too.  We'll see how that works out…
5.  Laksha is a witch, a truly evil one at that for many of the things she's done in the past. However, she's supposedly seen the error of her ways. Do you think she really has? Would you be willing to trust her? Do you think Atticus is smart to have decided to trust her to help him with the "other" witches?
I might be a little 'bent' but I like my demons-gone-good (LOTU, Dark-Hunter series, etc.) so I have faith in Laksha.  I think she truly believes in karma and feels that if she does anymore nastiness in the world, it'll come back to her in the form of karma.  I think Atticus can cautiously trust her.  He's no slouch in the power department, himself!!
Read-alongers:
If you have
CAPTCHA
on your blog, please consider turning it off (even for the day). With the new
CAPTCHA
system on Blogger, it is even more difficult and annoying to comment, and many commentors now skip over blogs with
CAPTCHA
. And just a reminder:
CAPTCHA
is turned on by default. If you're on Blogger, double check to make sure CAPTCHA is turned off.  I turned mine off a long time ago but it turned itself back on at some point and I've had it on for some time now 🙁