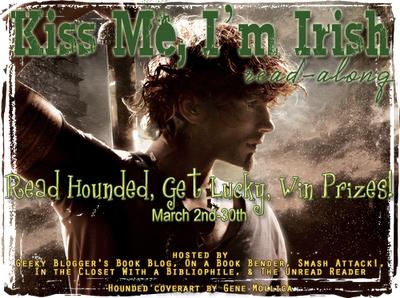 "Druid's log, October 11: 'Never make Laksha mad.'"
IF YOU HAVEN'T READ THE SERIES!!!
Questions for Chapters 21-25 + epilogue
1. In a moment of anger, Atticus reveals something about himself that he usually keeps very secret, for his own benefit. Has something similar ever happened to you? Have you ever spilled a closely guarded secret in a moment of excitement or anger or absent-mindedness?
Unfortunately nothing dramatically stands out but I suffer from foot-in-mouth disease so I'm sure I've done it loads of times and not even known it!  
2. Atticus tells Mrs. MacDonagh, "the universe is exactly the size that your soul can encompass. Some people live in extremely small worlds, and some live in a world of infinite possibility." Then he asks her what she is going to do with the new information she has discovered. What would you do if you found out that other beings were among us? Would you deny it or embrace it?
I would immediately run to my mom, have her draw some blood (she fancies herself a phlebotomist even though she's a hospital lab technician) and have her run all sorts of tests to find out what I am!!  I want to be one, too!!!  Embrace it, baby!!  "I will name him George, and I will hug him and pet him and squeeze him…" ~ sorry, Bugs Bunny moments come out of nowhere often for me…
3. So far, Atticus has revealed a few of his powers and has even shared some power by putting bindings on Granuaile. What do you think has been his coolest or most helpful power so far?
Definitely pulling power from the earth.  It's all encompassing!  He uses it for basic power, to regenerate and to call elementals to help him clean up "messes".   'Nuff said.
4. Atticus gets pretty pissed when he finds out that Aenghus Óg is drawing power from the Earth and, in turn, killing it. That's when Atticus decides he must fight the old Fae for committing such a heinous offense. What is something you would fight for, even if it meant you might die trying?
Duh, my son.  Next question… 
5. What did you think of the final showdown between Atticus and Aenghus Óg? Did it go down the way you expected? Was there anything about their battle that surprised you?
The epic nerve-wrecking moments when Atticus was collapsed in exhaustion on the desert floor after using the cold fire were truly surprising!! I had no clue how Atticus was going to get out that mess.  I knew Kevin Hearne was a good writer from what I'd read and enjoyed so far but dang!  If he can write a fight scene that I, as the reader, had no clue which way it was going, that's talent!!!
6. What was your favorite/least favorite part of Hounded? Who was your favorite/least favorite character?
I only had favorite parts.  I'm going to use quotes from the book to answer my questions:
Favorite part of the book ~ "The first thing I thought was, 'Oh no! I've been shot!' in the immortal words of the golden protocol droid when he got lased with special effects in a mining colony." – Atticus getting shot and taking care of business at the same time.
Favorite character ~ "All right, but I think we should start recruiting a horde now and have them muster on the Mongolian steppes.  We can join them in the spring and then ride to glory." "Where are we going to recruit a horde?" I asked him as we stepped inside….  "I don't know.  You're the bloody Druid here, not me…" – Oberon (conversation with Atticus)
Least favorite character ~ "Quite right.  So after I killed him and stowed his body next to the doe, I sampled his smoothie concoction in the parking lot and found it to be quite delicious." – Flidais (I didn't go with Emily b/c she was an awesome b*tch)
7. What do you think is coming up next for Atticus? Will you continue reading this series, and if so, what do you hope to see happen in the next book?
I'm going to weasel out this question because I've already read Hexed, Hammered and A Test of Mettle so the question is moo.  I will suggest that once you get to Hammered, you MUST read A Test of Mettle which is a short story told from Granuaile's point of view.  You can find it free on Kevin's website, along with Clanrathskeller, a prequel short story that occurs before Hounded. 
And if you really want to get your geek on, Kevin has a Google map with all the book's locations marked on it.  It's on his goodies page (that just doesn't sound right, does it?).
Read-alongers:
If you have
CAPTCHA
on your blog, please consider turning it off (even for the day). With the new
CAPTCHA
system on Blogger, it is even more difficult and annoying to comment, and many commentors now skip over blogs with
CAPTCHA
. And just a reminder:
CAPTCHA
is turned on by default. If you're on Blogger, double check to make sure CAPTCHA is turned off.  I turned mine off a long time ago but it turned itself back on at some point and I've had it on for some time now 🙁