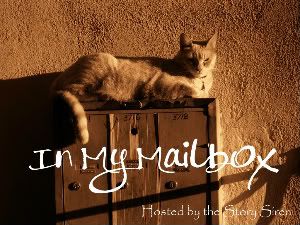 In My Mailbox is a weekly meme held over at The Story Siren.  It's a great way to let everyone know about the books that have come into your home the past week.  Whether you bought, borrowed, or received them for review, you share your loot and then hook up over at the The Story Siren. It's an awesome way to meet fellow bloggers and find new books to read.

I've had a crazy, hectic week (life always gets in the way!)  With all the reading material I acquired last week, I only purchased one book this past week.  I've been seeing Rhiannon Frater everywhere so I thought I'd pick up a cheap read of hers and see what she was like (click the picture to go to the Goodreads page for the book).
I apologize ahead of time… if I don't get around to all the blogs this week, please don't be offended!!!  It's my son's 6th birthday this weekend and I'm hosting out of town relatives (my ma & pa!).  Please don't feel obligated to leave comments either.  I just love sharing book ideas!!!!