Intangible
By J. Meyers
Released January 31, 2012
Self-Published
YA Urban Fantasy
4 hearts out of 5 
From Goodreads:  Twins Sera and Luke Raine have a well-kept secret—she heals with a touch of her hand, he sees the future. All their lives they've helped those in need on the sly. They've always thought of their abilities as being a gift.

Then Luke has a vision that Sera is killed. That gift they've always cherished begins to feel an awful lot like a curse. Because the thing about Luke's ability? He's always right. And he can't do anything about it.
Why isn't everybody reading this?  Seriously?!
Is it because this is a self-published novel?  Well, don't let that stop you.  I've read my share of self-pubs and I'm also one of those readers whose eyes magically zero-in on typos, spelling and grammatical errors.  I can tell you, Intangible is an absolute pleasure to read ~ not a flaw in sight!
Besides being devoid of typical self-pub landmines, J. Meyers crafted a unique and remarkable world.  Ms. Meyers uses the usual suspects for the other races in her world but she put very cool spins on their traits that I absolutely loved!  And nope, not sharing what races they are!  You'll need to read the book to see how Ms. Meyers' world is built and who's in it.
Pacing of the story was excellent.  Often times you'll find debut books in a series (oh, please let this be a series) lag in the beginning as the world is unfolded and explained for the reader.  I really didn't feel a sluggish pace at all.  I was intrigued and engaged the entire length of the book.  Granted, by the end I was a bit more engaged but hey, isn't that the way a book is supposed to be?
I have to say I really loved that a few of the characters had such dark personalities that they almost felt too intense for a YA book.  Ms. Meyers didn't shy away from her characters doing some scary stuff but nothing was too graphic and a lot of it was left to the imagination, a la "Psycho".  Her characters were not perfect, by any means, and one or two of them really pissed me off towards the end.  But that's life; nobody is perfect.
So, why was this not a five heart review for me?  This was a tough one for me not to give five hearts but when it came down to it, I didn't cry, I didn't scream, and I wanted a bit more drama during the "final battle".  Totally a goofy, personal thing.
But if you want an easy, fun, fast read with just enough characters to make it interesting, tack on multiple POVs that let you see all sides of the story without confusing you, then you definitely want to read this book!!!  If you want to just try it out, you know, see if you like J. Meyers' writing, might I suggest her short story prequel?  It's called Intuition and it's FREE!  Click on the links below to get it.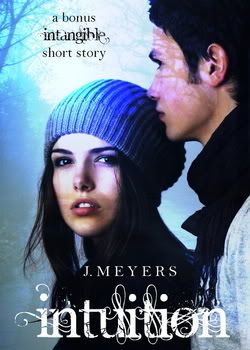 On Amazon