"Waiting on" Wednesday is a weekly event hosted at Breaking the Spine.  We share those books we can't wait to get our hands on!
Two Weeks' Notice (Revivalist #2) by Rachel Caine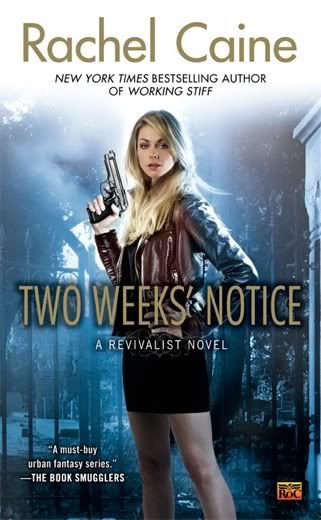 Expected publication date: August 7th, 2012
From Goodreads:

After dying and being revived with the experimental drug Returne, Bryn Davis is theoretically free to live her unlife – with regular doses to keep her going. But Bryn knows that the government has every intention of keeping a tight lid on Pharmadene's life-altering discovery, no matter the cost. 


And when some of the members of a support group for Returne addicts suddenly disappear, Bryn begins to wonder if the government is methodically removing a threat to their security, or if some unknown enemy has decided to run the zombies into the ground…
Why am I waiting on Rachel Caine's next entry of her newest UF series?  Because about two years ago when I started reading, Rachel Caine's Weather Warden series was one of the three series I started with.  I was completely captivated with her world building, writing style, and the "snark" that could come through in a character.  
When her Revivalist series came along, I wasn't too keen on the idea of a "zombie" as the book's protagonist.   But Ms. Caine pulled it off with all the action and lust (yep, I said lust) that I'm accustomed to in her books.  Yay for zombie lust!!  (It's late and I'm cracking myself up…. )
For a sample from Two Weeks' Notice, click HERE to go to Rachel Caine's website for the excerpt. 
Let me know what else I should be waiting for!!