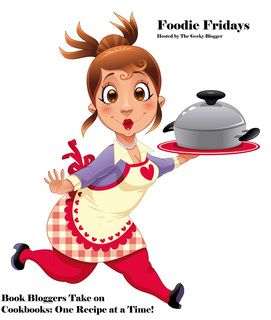 Hey everybody!  Look at the crazy tangent I took… cookbooks!!  Yep, I try and cook every once in awhile so I thought I'd join
The Geeky Blogger
and share some of my favorite cookbooks, sites and recipes. 
Everyday Italian: 125 Simple and Delicious Recipes by Giada De Laurentiis
Published February 22nd, 2005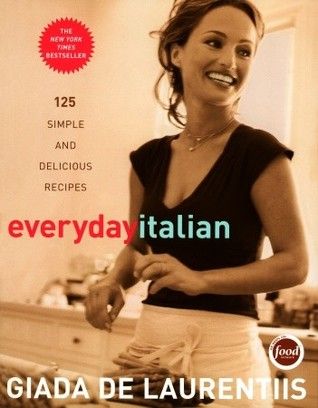 From Goodreads: …Everyday Italian is true to its title: the fresh, simple recipes are incredibly quick and accessible, and also utterly mouth-watering—perfect for everyday cooking. And the book is focused on the real-life considerations of what you actually have in your refrigerator and pantry (no mail-order ingredients here) and what you're in the mood for—whether a simply sauced pasta or a hearty family-friendly roast, these great recipes cover every contingency. So, for example, you'll find dishes that you can make solely from pantry ingredients, or those that transform lowly leftovers into exquisite entrées (including brilliant ideas for leftover pasta), and those that satisfy your yearning to have something sweet baking in the oven. There are 7 ways to make red sauce more interesting, 6 different preparations of the classic cutlet, 5 perfect pestos, 4 creative uses for prosciutto, 3 variations on basic polenta, 2 great steaks, and 1 sublime chocolate tiramisù—plus 100 other recipes that turn everyday ingredients into speedy but special dinners…
Back in the day when I used to sit on my butt all day in Maine with nothing to do but watch Food Network and HGTV (before I discovered reading) I pretended I could do everything I saw on TV.  This book didn't help clarify that fallacy.  I ran out and bought it when it first came out and almost everything I've tried has been a success.  I've tried quite a few recipes from this book and they are easy and taste absolutely awesome because she doesn't skimp on the fat (I love Paula Deen for the same reason!).  
My absolute go to recipe is Chicken Piccata.  It's fast, easy, and there's not a lot of fancy ingredients you can't find at a normal grocery store (I was living in freakin' rural Maine – look up Calais, ME, you'll see!)  I can now do it by heart.  And I personally think it's better than The Cheesecake Factory's chicken piccata. 
4 main-course servings
4 skinless, boneless chicken breasts, halved crosswise
1/2 teaspoon sea salt
1/2 teaspoon freshly ground black pepper
All-purpose flour, for dredging
4 Tablespoons unsalted butter (I use salted, I like salt)
2 Tablespoons extra-virgin olive oil
1/2 cup reduced-sodium chicken broth (eh, I get the regular stuff)
1/3 cup fresh lemon juice (I buy lemon juice but I buy ReaLemon brand)
1/4 cup drained capers, rinsed (I throw the whole small jar in, hmmmmm)
2 Tablespoons chopped fresh flat-leaf parsley
Sprinkle the chicken with the salt and pepper.  Dredge the chicken in the flour to coat lightly.  In a large saute pan, melt 2 Tbl of the butter with the 2 Tbl of oil over medium-high heat.  Add the chicken and cook just until brown, about 3 minutes per side.  Using tongs, transfer the chicken to a plate.
Add the broth, lemon juice and capers to the same pan.  Bring the broth mixture to a boil over medium-high heat, scraping up the brown bits from the bottom of the pan for extra flavor.  Return the chicken to the pan and simmer until just cooked through, about 5 minutes.  Using tongs, transfer the chicken to a platter.  Whisk the remaining 2 Tbl of butter into the sauce.  Pour the sauce over the chicken, garnish with the parsley, and serve. 
Giada has a slightly different recipe on the Food Network site that you can easily print out.  Here's the LINK. 
Enjoy!!!