"Waiting on" Wednesday is a weekly event hosted at Breaking the Spine.  We share those books we can't wait to get our hands on!
Grave Memory (Alex Craft #3) by Kalayna Price
Expected Publication July 3rd, 2012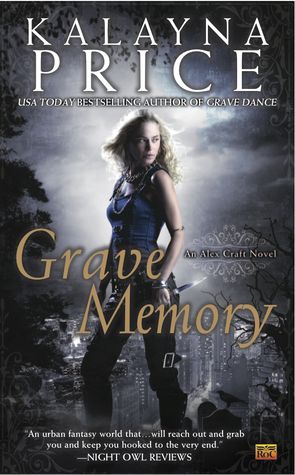 From Goodreads: 

As a Grave Witch, Alex solves murders by raising the dead. While she's always been on friendly terms with Death himself, lately things have become a lot more personal. But the personal takes a backseat to the professional when a string of suicides occur in Nekros City. The shades have no memory of the days leading up to their brutal endings, so despite the very apparent suicides, this is murder. And searching for the answers might mean Alex won't have a life to remember at all…
Why am I waiting?  I like witches.  Yep, I'm in the minority.  But ever since Samantha had Tabitha on Bewitched, I've always wanted to be a witch.  And I love Ms. Price's Alex Craft series!!  It's a great blend of witchcraft, fae and Death (oh, man….  Death).  A love triangle done well, this series is full of non-stop adventure and no dull moments.  I've been waiting almost a year for this sequel to Grave Dance.