It's day three of Armchair BEA and we're talking today about networking outside your blog.  How do you get out in the world and share and spread your love of things bookish?  How do you use your blog to connect to the community, libraries… the real world!
To some of you, I apologize.  This is an old story I'm repeating; but at least I added more pics 🙂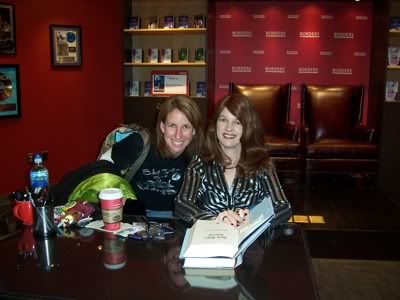 I started going to book signings BEFORE I started blogging, so my networking story is completely backwards!
I'm a HUGE fan of Kim Harrison and she happens to tour through Michigan at least once a year (well, she lives here, you know).  At my first book signing, I met a really cool girl named Nan.  She told me about Goodreads.  Um, wow!
The next February, we met up again at Kim's book signing for dinner and to talk all things book.  She and another girl we met shared with me that there are these magical things called "blogs" out there!  Um, what?
We then met up in October of that year for the Smart Chicks Kick It tour stop in Lansing, MI.  Nan and I sat in the third row behind this larger group of girls who were all talking about blogs.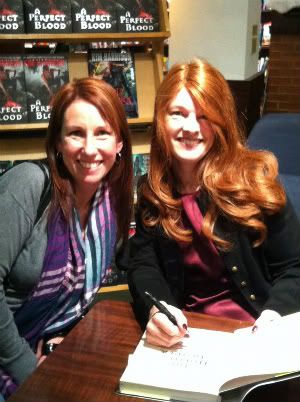 I had become interested in blogging because I am such a computer geek.  I was totally eavesdropping on their conversations.  Because I'm not really shy, I started asking questions about blogging.  These totally friendly, very energetic girls shared all sorts of information about blogging, Twitter, Tumblr and about how friendly the blogging community was.  They totally encouraged me to go for it and start blogging!!!   Then they gave me their cards with their blogs and email addresses on them.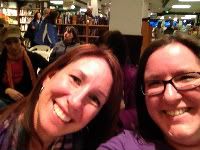 Turns out, I was talking to Stacey from Page Turners, Sara from The Hiding Spot and, um, Courtney Allison Moulton.  Stacey had to clue me in that it was, indeed, the author of Angelfire sitting with them and who'd I'd been talking to.  Well, holy crap!!!  Angelfire had been sitting my TBR pile since March 20th, 2011 (I looked it up).  So Nan and I ran to the bookshelves, bought 2 copies, and promptly ran back and groveled for her signature on our books.  Courtney completely unselfishly didn't mind signing them, despite being at the signing for "pleasure" not "work"!   
 
This year at the last Kim Harrison book signing, I just happened to catch that Jackie from Literary Escapism was going to be at the same signing as Nan and I.  I asked if we could hook up and she said sure!  We ended up talking almost non-stop about all things blogging, books, and everything else in the world!   
Truly, our blogging community amazes me everyday.  The little, icky nasty bad stuff we have to put up with occasionally is completely outweighed by the generosity and graciousness of fellow bloggers and those awesome authors we follow!!  Thank you to everyone who has helped me along the way and everyone who undoubtedly will!!!
Now get out and go to a book signing!!  You won't regret it!!