If I Die (Soul Screamers #5)
By Rachel Vincent
Published September 27th, 2011
Harlequin
YA Paranormal Romance
Read for the Soul Screamers Reading Challenge/2012 TBR Pile Reading Challenge
5 hearts out of 5
From Goodreads:  The entire school's talking about the gorgeous new math teacher, Mr. Beck. Everyone except Kaylee Cavanaugh. After all, Kaylee's no ordinary high-school junior. She's a banshee—she screams when someone dies.

But the next scream might be for Kaylee.

Yeah—it's a shock to her, too. So to distract herself, Kaylee's going to save every girl in school. Because that hot new teacher is really an incubus who feeds on the desire of unsuspecting students. The only girls immune to his lure are Kaylee and Sabine, her boyfriend's needy ex-girlfriend. Now the unlikely allies have to get rid of Mr. Beck…before he discovers they aren't quite human, either.

But Kaylee's borrowed lifeline is nearing its end. And those who care about her will do anything to save her life.
If there were flaws in the story, pacing, plot details, I didn't see them!  I was flyin'… lost in this amazing adventure of the last week of Kaylee Cavanaugh's borrowed life.  Ms. Vincent, you do know you have your work cut out for you with Before I Wake, right?  No pressure…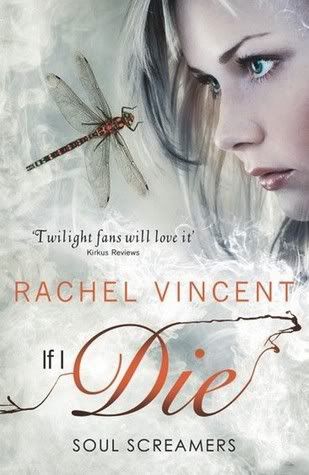 UK Cover
Can Kaylee catch a break and have some happiness?  She's just gotten through her latest disaster and wants to have some time to relax and work on re-building her relationship with her boyfriend, Nash.  Not happening.  She finds out her time is up and she's on the reaper's list.  She has a week.
In true Kaylee style, she sets out to ensure her loved ones are protected and safe after she's gone.  This includes solving the mystery of the new math teacher, Mr. Beck.
As Kaylee struggles to stay distracted from her impending doom, big realizations in her life come to light.  Major, MAJOR "uh ohs" occur.  I can honestly say that there were three twists that I never saw coming and could never have imagined in a million years.  This story is another "hold on tight" joyride through Rachel Vincent's Soul Screamers world.
Really, that's all I can say without spoiling anything.  I don't want to say anything about Tod.  I can say…  um, no, nothing about Nash.  Oh!  Sabine is still a pain in the butt and annoying!  But, really, if I say anything about anyone, it might give something away.
I can say, though, that I think this is the most romantic, heart wrenching book out of the entire series.  Yep, that sums it up well…

Other books in the series: