Neiderwald (Soul Screamers #4.5)
By Rachel Vincent
Enthralled: Paranormal Diversions
Published September 20th, 2011
HarperCollins
YA Paranormal Romance
Re-Read for the Soul Screamers Reading Challenge
3.5 hearts out of 5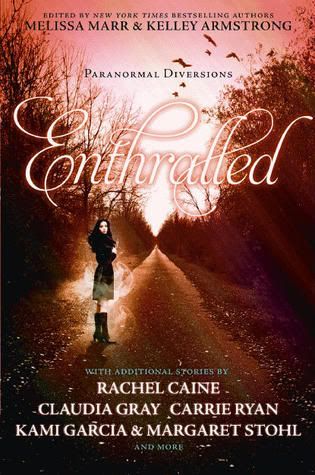 Neiderwald
is a short story found in the young adult anthology
Enthralled: Paranormal Diversions
.  You can find my review of the anthology
HERE
.  This story is told from the point of view of Sabine, Nash's ex-girlfriend.
Sabine has hitched a ride with Emma on a road trip for extra-credit in school.  Normally not friends, Sabine is only on the trip with ulterior motives.  She needs to make a "pit-stop" in a small Texas town called Neiderwald to visit a seer for help with a question she has about her future.Absolutely crazy thing I never do: I read this story before I read anything else in the Soul Screamers series.  WHAT THE?!?!?!  Yep, I did.  I read this story so carefully, so tentatively, making sure I didn't stumble on anything that looked like a spoiler.  And since I had no knowledge of anything from the Soul Screamers world, nothing looked spoiler-ish to me.
Now that I've read Neiderwald a second time in it's correct order in the series, the short story makes a thousand times more sense.  So what lesson have we learned today, folks?  Don't read stories or books out of order ~ you won't fully understand the entire "spirit" of the story and it'll probably lessen your overall enjoyment of the story.
Overall, this short entry into the Soul Screamers world serves two purposes.  First, it gave us the opportunity for us to hear Sabine's voice first hand.  But there were no surprise revelations, no differences in between what she says and what she thinks.  Meaning, it's not like we suddenly discovered she hides a deep seeded insecurity behind all the trash talk.
Second, Ms. Vincent got her short story into this anthology with a lot of other popular young adult authors who were taking the book out on tour.  Even though If I Die was being released one week later.  Oops, that was a close one, I would say!
Because there is a spoiler for If I Diein this short story, beware if you haven't read If I Die yet.  Just cover your eyes when you go to buy the book.