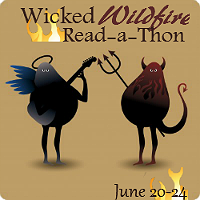 Rebecca and April (along with all the wonderful challenge hosts) did such a great job with the Wicked Winter Read-A-Thon I participated in last winter that I had join in on the summer version!  Granted, I've been really "sucking eggs"* on my blog as of late but I could really use the reading break!  Five days dedicated to reading and chatting with friends about books; I'm so there! 
*I'm not where I want to be in my blogging because I'm working on my blog design before I move to WordPress and I can't seem to make up my mind on colors, blah, blah, blah.  Also, having gotten out of my son's Kindergarten year from Hell, I need to get out of my slump, or up my meds, whichever comes first.
The cool thing about this Read-A-Thon is that there's no pressure.  You join in when you can: for one day or for all five days!  And there are challenges – holy cow, there's a ton of them this time around!  I'm going to need to print out notes just to keep track!
So, here's what I'd like to read during these five days (wish me luck):
| | | | |
| --- | --- | --- | --- |
| I'm just finishing this one | | | I might get to this… |
There's still time to join up!  Click HERE for all the details!!
I'm updating this post as I progress through the Read-A-Thon
DAY ONE
Progress: 
The Darkening Dream, read 14% – COMPLETED
The Tale of the Vampire Bride, read 12%
I'm keeping my status in Goodreads up to date so my progress is being tweeted from there, too 🙂
Today's Challenges 
8AM Wednesday – 8AM Thursday | Something Wicked This Way Comes… | Rebecca @ KindleFever
"A wildfire is quickly coming your way! What thing/s do you grab when you only have a few minutes to make it out?"(I've saved any people or pets in there already!)
See that map above?  That's a map of San Diego County from the 2003 Paradise and Cedar wildfires.  See that green arrow?  That's Lakeside, CA, where my hubs and I were living.  And he laughed in my face when I backed my car up into it's parking spot for a quick getaway.  He was quick to point out the concrete jungle we lived in (we lived in an apartment at the time).  I tend to freak out easily.  It was a crazy week!!  How about not going to work because you couldn't get there?
No doubt, right now, if I had to run out the door, I would grab my phone, laptop and our fire box (or just the contents in it).  Everything else can be replaced.
Oh, do I have time to grab the cords and chargers for my phone and computer?  Those are buggers to replace 🙂
4PM Wednesday – 4PM Thursday | 
Slake Your Thirst
 | Kimberly @ 
The Caffeinated Book Reviewer
"Help me create a recipe book for the Wicked Read-a-Thon" ~ share your favorite drink recipe and the cover of your most anticipated summer read.
My neighbor brought over a pitcher of these for a Twilight viewing (um… yup, we do those) and they are freakin' fabulous!!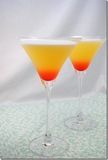 photo courtesy of Leftovers for Lunch
Bikini Martini (courtesy Kerhoulas the Canuck)
1oz Citrus Vodka
1 oz grenadine (shake over ice and strain)
It's hard to decide what books I'm looking forward to the most this summer.  So I'm "cheating" and picking a YA and an adult (UF).  You know, because I'm always reading both (I'm good at rationalizing).
DAY TWO
Progress: 
The Tale of the Vampire Bride, read 38% (up until 1am reading, couldn't stop!)
Today's Challenges
8AM Thursday – 8AM Friday | 
Cover Lover
 | Marie @ 
Ramblings of a Daydreamer
Marie has up on her site 9 snip-it's of YA covers that you have to figure out what cover they are.  I think I have 7 out of 9 correct.  Two pics have me completely stumped!  Pic number 4 is driving me nuts because I know it, I just don't know the name of the book; it's completely alluding me!
4PM Thursday – 4PM Friday | 
Wicked Title Trouble
 | Melissa @ 
Melissa's Eclectic Bookshelf
Using the book titles provided, we have to come up with a crazy, original sentence.  I suck at these and already at this hour of the night, there's so many better sentences/paragraphs than I ever could come up with.  Here's my go at it:
"The Rising Sun, Born Wicked on That Summer Solstice, gave way to a Heat Wave over The Beach House."
…and then my air conditioning broke 🙁    That's not part of the sentence, that's just my luck.
DAY THREE
Progress:
The Tale of the Vampire Bride, only read 21% – just not a good reading day
Today's Challenges
8AM Friday – 8AM Saturday | Sonnets & Songs | Amanda @ Letters Inside Out
Oh good Lord, Amanda has challenged us to write an original poem or song to or from our favorite book character!!!  I need to consult my Shel Silverstein for help on this one.  I'll be back…
Okay, so the only prose coming to mind is something along the lines of "Ode to Bone's Bone" so I think I'm bailing on this challenge 🙁  Sorry, Poppet!
4PM Friday – 4PM Saturday | Beach Soiree | Kriss @ The Cabin Goddess Reviews
And I'm blanking out on this challenge, too!!  I think it might be the period vampire book I'm reading.  I'm nearing the end and I can't put it down at this point.  It's taking all my strength to sit at the computer right now!!!!
DAY FOUR
Progress: 
The Tale of the Vampire Bride
, Finished!
The Vengeance of the Vampire Bride
, read 10% – I switched things up a bit and started the sequel to
Tale of the Vampire Bride
because I love to read books one right after the other so my mind stays in the "world" and I remember details better.  I've noticed I enjoy books better than way. 
Today's Challenges
8AM Saturday – 8AM Sunday | Mix 'n Match | Benji @ The Non Reluctant Reader
We're matching quotes up with their books this morning over at The Non Relectant Reader.  I did this and I think I might have gotten 3/5 correct 🙂
4PM Saturday – 4PM Sunday | Party Up With Literature | Preet @ A Written Rhapsody
We're coming up with a playlist for the book we're currently reading, making a band from the characters and picking a genre for them, and/or picking a video to go with the book.  Since I'm not familiar with music from 1820 Hungary, I'm limited on my options so this challenge is truly challenging.  So I'm going with:
1. Find a song and/or lyric that would fit the book and tell me who it's by and why it fits.  
For the book The Tale of the Vampire Bride, I've picked Headstrong by Trapt (October 2002).  Yes, it's an old song but I have very eclectic music taste and the song kicks ass, still.  By the title alone, the song fits the story of Glynis, the bride picked by Vlad Dracula to become his new bride, picked because of her fiery strength and independence.  I don't want to give the story away too much but specifically, the lyrics
"I see your fantasies, you want to make it a reality…"
"and this is where you belong…"
"Headstrong, we're headstrong"
… all fit the story of what Vlad might be saying to Glynis.  The song, on it's whole, goes back and forth between what Glynis would say to Vlad and vice versa.  But, creepily enough, I thought of this song for the book before the challenge even came up!

2.  Find a music video that would relate to the book and leave the link.
This one was near impossible but I dug deep in my memory to pull out a video that had a scene similar to the book.  I don't think this one is entirely pivotal to the story in the book because we already know Glynis doesn't want to be a vampire.  BUT, if you haven't seen the movie, The Last of the Mohicans, you will NOT want to watch this video.  A huge scene in the movie is towards the end and Glynis does something similar in the book.  I will say nothing more!!!  If you've seen the movie, you can fast forward to about 3:15 and the scene unfolds…  enjoy a good tearjerker.  And I LOVE Clannad!!!  This song is shortened on the soundtrack but it's on their 1993 release Banba (which I own from way back when).
Seriously, don't watch the video above if you haven't seen the movie!!!  It will spoil the movie for you!!!!
DAY FIVE
Progress:
Today's Challenges
Midnight Saturday – Midnight Sunday | Wicked Summer Scorcher | April @ My Shelf Confessions
For this challenge, we're vampires and we have to run out into the sun and grab 3 of our most precious items.  I'm going to think on this because 2 of my most precious things will run from me.  GRRRRR…
I'm falling asleep as I'm writing this… I'm am so out of it!!  I'm calling it quits for the computer tonight.  I've already won 2 challenges and a prize at the Twitter party last night so I think I should bail.  But my answer would have suck, anyways.  I was going to run after my son, my dog and hop in my car.  My dog would follow me, no problem.  My son would be tough (he's autistic).  The car would be heaven!  Oh well!!
G'night everyone!