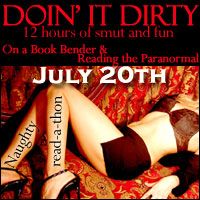 Tomorrow I'm going to be busy reading all kinds of naughtiness for 12 hours.  Having been engrossed in YA reads for sometime now, this will be a welcome escape (tee, hee).  Here's what I'm hoping to read:
That Voodoo You Do (That Old Black Magic #1) by Jodi Redford
A Dark Kiss of Rapture (Renegade Angels #0.5) by Sylvia Day
Club Shadowlands (Masters of Shadowlands #1) by Cherise Sinclair
Thank you to Amanda @ On a Book Bender and Kelly @  Reading the Paranormal for organizing this 12 hours of debauchery and for the great reading recommendations.  I hope I can make it to Club Shadowlands because I want to know if she can read another book as good as The Dom's Dungeon, which I highly recommend for a naughty read.
So, if you'd like to join us, click on the button at the top or just visit Amanda and/or Kelly to sign up.  You can also follow my progress on Twitter by following the hashtag #DoinItDirty.
Wrap-Up
Almost time for a brain scrub!!  I only finished That Voodoo You Do and decided to start the second book in that series, The Seven Year Witch.  I'm actually liking the second book just a smidge better but both books are absolutely fun, turn your brain off, quick reads.  And I definitely needed the break from YA *fans self*.
I'm still going to read A Dark Kiss of Rapture because I already have that short story as it was FREE and it's Sylvia Day (she rocks).  I'll get to more Cherise Sinclair soon.
Thanks, again, to Amanda and Kelly for organizing this event.  It was a great way for me to find some new books to read 😉