Pushing the Limits
By Katie McGarry
Expected Publication July 31st, 2012
Harlequin Teen
YA Contemporary Romance
4.5 out of 5 hearts
Received for review courtesy of Harlequin via NetGalley

From Goodreads: "I won't tell anyone, Echo. I promise." Noah tucked a curl behind my ear. It had been so long since someone touched me like he did. Why did it have to be Noah Hutchins? His dark brown eyes shifted to my covered arms. "You didn't do that-did you? It was done to you?" No one ever asked that question. They stared. They whispered. They laughed. But they never asked.

So wrong for each other…and yet so right.

No one knows what happened the night Echo Emerson went from popular girl with jock boyfriend to gossiped-about outsider with "freaky" scars on her arms. Even Echo can't remember the whole truth of that horrible night. All she knows is that she wants everything to go back to normal. But when Noah Hutchins, the smoking-hot, girl-using loner in the black leather jacket, explodes into her life with his tough attitude and surprising understanding, Echo's world shifts in ways she could never have imagined. They should have nothing in common. And with the secrets they both keep, being together is pretty much impossible. Yet the crazy attraction between them refuses to go away. And Echo has to ask herself just how far they can push the limits and what she'll risk for the one guy who might teach her how to love again.
I don't read contemporary novels very often, but when I do, I only read the best.  Yep, I sound like a certain old man in a crappy beer commercial but it's true.  I can pick them!  Okay… not really.  I go by everyone else's recommendations but hey, you've got to start somewhere, right?  Once I read the synopsis to Pushing the Limits, I ran for my life over to NetGalley and begged for a review copy (thank you Harlequin Teen)!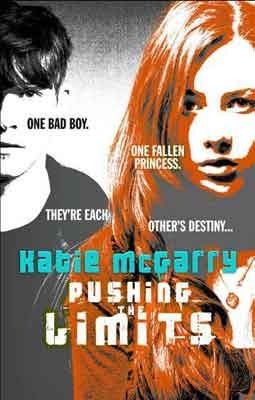 On the very first page, I was immediately thrown into Echo's world of social workers, child protective services and a family that takes dysfunction to a "crazy" new level.  Noah isn't in a much better situation, being shipped from one foster family to the next.  How they're thrown together completely works for me.  I didn't roll my eyes once nor did I shout, "UGH, I've seen that before!"  Ms. McGarry's story is cleverly woven into a tale of getting over loss, both those lost to death and those people still alive that we've lost our relationships to.  A deep, heavy read?  Nah, not too much.  Still a great summer read.  It'll just choke you up a bit and make you use a few more brain cells.
The story is told in both Echo and Noah's point of views and it's Echo's wit and snark that I enjoy the most.  Even with the heavy subject matter, Ms. McGarry is able to make the character's voices completely believable.  The character's thought processes and solutions to their troubles were completely in line with their ages and experience.  Absolutely realistic!  I really can't say enough how much I appreciated this book for it's appropriateness for the YA audience and how much I, as an adult, enjoyed it!
You'll probably see many comparisons of this book to the Perfect Chemistry series.  While it's just as good, it is different.  Yes, you do have the bad boy and the "good" girl get together, but that is NOT at all what this book is about.  I think the book is about finding that person who will actually get to know who you are.  Ahhh, young freakin' love…  I'll eat it up any day!
Similar to Perfect Chemistry, Pushing the Limits appears to be a series where we have a book for each side character (maybe?).  There's a second book coming out in 2013 called Dare You Toand this will be Beth's story (Beth is Noah's "sister").  After reading the teaser for it, I absolutely can't wait for it to come out!
If you're interested in a read-a-long for this book, there's already one planned!  Starting the week the book is released, the girls at Candace's Book Blog, Dazzling Reads, The Page Turners, The Book Swarm and Bewitched Bookwormsare hosting this read-a-long that includes lots of giveaways and ends with a live Twitter chat with Katie McGarry.  Check back with these blogs on July 24th for the official sign-ups.