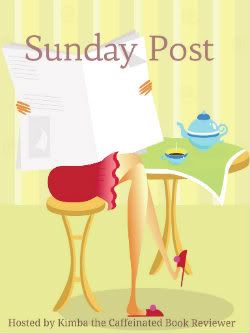 The last time I posted an "In My Mailbox" was back on April 22nd of this year.  The following week was a crazy week in the blogging world and an awakening for me.  Sickened by the idea of "showing off" all my new books, I decided to stop participating in this traditional Sunday meme.
Four months later, I realize that I really miss checking out all the new books everyone is getting and seeing what everyone is reading or is going to read.  I also miss going around and finding new blogs (although I suck at keeping up on my commenting ~ Kimba is the queen of that realm!).
So with a new look to my blog, I'm wading back into the shallow end.  Honestly, I haven't gotten many new books lately because I've been spending most of my time working on the format, widgets and redirections for my blog now that it's over at WordPress.
[dt_divider style="narrow"/]
Bought
Yep, I went and done it.  I succumbed to the pressure and read all three Fifty Shades.  It started off innocently enough; I took Fifty Shades of Grey out from the library.  I refused to pay for the book (I don't know, I was reading all the negative reviews and got a big 'ole burr up my butt about it).  Before I even finished the first book, the bag in the above picture was sitting on the front seat of my car (*hangs head in shame*).  I'll be doing my review as soon as I get 10 other reviews done 🙂
I won this AWESOME book from Rebecca at Kindle Fever during the Wicked Wildfire Read-a-Thon – THANK YOU!!  If you haven't done one of her and April @ My Shelf Confession's Read-a-Thons yet, you really should!!!  They are a ton of fun and totally no pressure!!
[dt_divider style="narrow"/]
Soooo, what books came home to live with you this week? 
And just so you know, I'm working on my commenting system right now because both CommentLuv and Disqus refuse to cooperate with me.  Sorry if you have any problems!  I'll definitely come around and visit ya sometime on Sunday, though 🙂