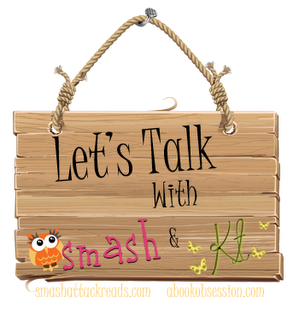 "Let's Talk with Smash and Kt" is a weekly discussion meme that happens every Friday.  Having been started by Melissa at I Swim for oceans, it's been passed on to Smash from Smash Attack Reads and Kt at A Book Obsession.  Every week there's a different discussion question that's been posted weeks in advance HERE.  To participate, write, hook up, visit and discuss!!!
This week's question/topic: "Please share your favorite Holiday recipe. And if you don't have one or cook, then go find one that sounds YUM-O! Feel free to include pictures."
I'm going to share TWO cookie recipes with everyone today!  The first one is a traditional Spritz cookie recipe from my mom.  She's German and Swedish (she was born and raised in St. Paul, MN) so I think these are the most authentic ones I've ever seen.  I've also heard that from other sources.  The key is the almond extract instead of vanilla.
Spritz
4 sticks of butter
2 Cups powdered sugar
2 egg yolks
3 Tbs heavy cream
4 1/4 cups of flour
1 tsp almond extract
Cream butter and sugar.  Add egg yolks one at a time.  Add cream and almond extract.  Add flour with hands – don't over handle the dough, the cookies will get tough.  On an ungreased baking sheet, bake at 350 degrees for 5-8 minutes or until golden brown.
I throw the sugars for the cookies on before I bake the cookies, FYI.
My second recipe is my go to recipe whenever I need a great chocolate chip cookie.  I always have the fixings to make these on hand at all times.  These were passed onto me from a friend in San Diego.  I love these b/c they are the light and fluffy cookies.

Chocolate Chip Cookies
1 cup margarine
3/4 cup Brown Sugar
1/4 cup Sugar
1 tsp.  of Vanilla
1 pack of Vanilla, instant pudding mix (serves 4 box)
2 eggs
2 1/4 cups flour
1 tsp baking soda
1 pack chocolate chips (12 oz. bag)
Preheat oven to 350 °.  Combine flour and baking soda in a bowl, set aside.  In another, larger bowl, cream butter and sugars.  Add pudding mix and vanilla.  Mix well.  Beat in eggs.  Slowly add flour mixture.  Mix well.  Add choc chips.
Bake for 10-12 minutes or until golden brown.  Makes 36 cookies using Pampered Chef med cookie scoop.  For you guys doing Weight Watchers, I actually figured out what the points were per cookie, using the med cookies scoop – 4 points each.
What's your favorite Christmas/Holiday recipe??  It doesn't have to be cookies… cakes and bars are great too!