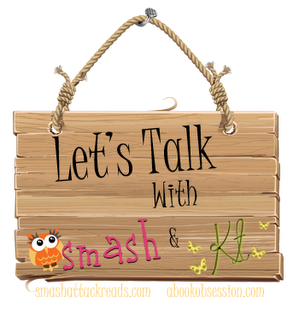 "Let's Talk with Smash and Kt" is a weekly discussion meme that happens every Friday.  Having been started by Melissa at I Swim for oceans, it's been passed on to Smash from Smash Attack Reads and Kt at A Book Obsession.  Every week there's a different discussion question that's been posted weeks in advance HERE.  To participate, write, hook up, visit and discuss!!!
This week's question: "Do you use 'green' products? Do you recycle?
Please share your thoughts and resources on helping our planet live for future generations. (Thank you, Mary!)"
Wow, the one week I can finally participate and all I have is shame, shame, shame… with some self loathing.  But lots of shame.  Because my house is not green in any way, shape, or form.
[frame align="left"]
[/frame]I live in Michigan, one hour north of Detroit.  I'm kind of in the boonies.  I live in a state that likes it's fossil fuels.  They don't have recycling here that comes along and picks it up with your garbage.  You have to load it up in your car and drive it to the middle school on Saturday morning between 8 and noon.
I also don't have room anywhere between my kitchen, laundry room, and garage where I would put recycling bins.  We have a 2 car garage that currently holding 2 cars, a motorcycle, 2 bikes, a small kids ride-on, a generator, lawn mower, snowblower…
I wish I could say I use earth-friendly cleaning products, but I don't.  I've got 409, Scrubbing Bubbles, and Soft Scrub with Bleach sitting in my closet.  But at least I make sure my son isn't around when I clean.
So, lesson here?  I should start setting a better example for my six-year-old and start separating my cans from my glass bottles.  And drag my butt up to the middle school on Saturdays…
Are you green?