For the next four weeks, I'm participating in WinterHaven Books' Sleigh Tour to celebrate this holiday season. 
This week we're reviewing YA winter themed books, whether it's written about Christmas, snow, has snow and Christmas on the cover… you get the idea.  AND…  WinterHaven Books has an awesome giveaway to help celebrate so make sure you keep reading to get to the Rafflecopter for the giveaway.  And to check out all the other lovely blogs riding on the sleigh with us, click on the banner at the top or click HERE.
The winter-themed book I chose to review is Fracture by Megan Miranda.  I had been wanting to read this book ever since it came out earlier this year but I just let it slip on by and it got buried on my wishlist TBR.  This was the perfect opportunity to get it at the library and whip through it.  I mean I literally devoured it in a matter of hours…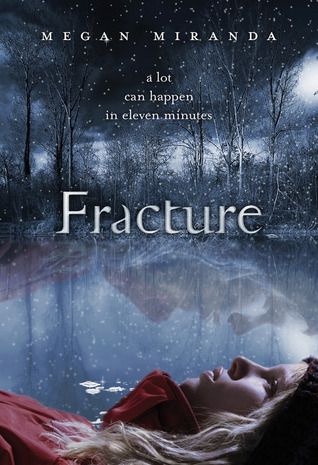 Fracture (Fracture #1)
By Megan Miranda
Published January 17, 2012
Walker Childrens
272 pages
Young Adult | Urban Fantasy | Paranormal Romance
Source: Library
Rating:
From Goodreads:

Eleven minutes passed before Delaney Maxwell was pulled from the icy waters of a Maine lake by her best friend Decker Phillips. By then her heart had stopped beating. Her brain had stopped working. She was dead. And yet she somehow defied medical precedent to come back seemingly fine. Everyone wants Delaney to be all right, but she knows she's far from normal. Pulled by strange sensations she can't control or explain, Delaney finds herself drawn to the dying. Is her altered brain now predicting death, or causing it?

Then Delaney meets Troy Varga, who recently emerged from a coma with similar abilities. At first she's reassured to find someone who understands the strangeness of her new existence, but Delaney soon discovers that Troy's motives aren't quite what she thought. Is their gift a miracle, a freak of nature-or something much more frightening?
I try to avoid reading other reviews of a book before I write mine.  I don't want my words to be skewed by another's opinion.  Or, in this case, I don't want my review to end up being a rebuttal to a few other reviews.  I should know better… what was I thinking?
Fracture is one of those quick, young adult reads that has all the best things I like in a book.  It's got an urban fantasy setting, romance, a hero, a snarky heroine, light and fun banter, with a dose of philosophical  reflection.
Setting
The story is set in a small town in Maine.  Delaney and Decker are next door neighbors and best friends for as long as they can remember.  They are opposites where Delaney is the study-aholic going for valedictorian and Decker is the guy that just wants to get by and not do the "required reading".  Delaney and Decker have such a fun, carefree banter that it makes the book move through those sections with them in it.  On one afternoon, Decker is making Delaney take a shortcut to their friends by going across the frozen lake.  If you've read the synopsis, you know what happens next.
Story / Tempo
But the story isn't just the fact that Delaney lived after being underwater for eleven minutes and her dealing with her new found affinity to the dying.  Enter the mysterious guy, Troy, who Ms. Miranda seems to play off as if we're never supposed to be sure if he's a good guy or a bad guy.  Well, actually, if you pay attention early on, you figure out pretty quickly Troy's true nature (or at least I did).
All along, the plot moves pretty quickly as Delaney tries to figure out what she is (yes, I've worded that correctly), who she can trust, and how to cope with her family and friends around her.  There's a lot going on in this story with absolutely no lulls.  I did not want to put this book down.  Some readers thought it had too much going on; I didn't think so.
Characters
Some readers couldn't connect with Delaney or thought she was self-centered.  Well, duh, she's a 17-year-old high school student!  She just died.  So on top of having feelings for a guy she's been best friends with who totally broke her heart in the past, she has to deal with brain damage she can see on an x-ray but that she doesn't feel.  Her mom doesn't know how to cope so she's wigging out and cleaning the house spotless.  Her doctor keeps trying to shove anti-depressants and sleep aids down her throat, as well.  Hmm, I might be a bit snarky and bent, too.
When Delaney characterizes her personality, I thought it was hysterical.  When she calls herself "unfriendly to her classmates", it so reminded me of Gilmour Girls banter.  I thought it great that she stuck to her guns with Troy and thought there was a positive side to their freaky new "powers" (for lack of a better word).  The girl had conviction.  But that's just my opinion…
Oh, yeah, and Decker rocks my converse sneakers off!  If you want to read his POV on what happened in those eleven minutes, there's a short story on Fracture's Facebook page.  I love Decker's "voice" (*swoon*).
Is this a review or a rebuttal?  Anyone getting anything out of this review yet?  Let's see if I can salvage this review with my wrap-up…
[quote style="1″]If you had one day left to live, what would you do? – Delaney[/quote]
I think that quote sums up life in itself.  It's a long, bumpy road for Delaney to figure this one out, to get where she wants.  And Ms. Miranda doesn't hold anything back.  By the end of the book she gets there, one way or the other.  I loved the story because she actually finds a way to figure it out all on her own.  Everything may not be perfect – but it's as close as she can get for her second chance.
Other Book In The Series:
Vengeance (Fracture #2) is looking at a 2014 release.  Told from Decker's POV, "the lake that claimed victims appears to be cursed as more tragedy unfolds, raising the question of whether a character's strange affinity with the dying is something even more sinister" (quote from Publisher's Marketplace via Goodreads).
Other Reviews:
Melissa @ Melissa's Eclectic Bookshelf
Giselle @ Xpresso Reads
Jessica @ Confessions of a Bookaholic
WinterHaven Books is hosting a terrific giveaway where 4 winners will be chosen to receive a Signed Copy of Dash & Lily Book of Dares and a Not Signed Copy of Let it Snow.  It's INTERNATIONAL so make sure you enter! 😉