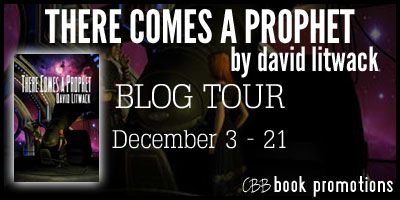 As part of the There Comes A Prophet Blog Tour, I'm doing a review of this dystopian tale that reads almost like a high fantasy.  Not my usual fare but I certainly enjoyed it!
There Comes A Prophet
By David Litwack
Published July 9th, 2012
Double Dragon Publishing
282 pages
Young Adult | Dystopian
Source: Received from author in conjunction with blog tour, in exchange for an unbiased review
Rating:
From Goodreads:

Who among us will cast aside a comfortable existence and risk death to follow a dream?

A world kept peaceful for a thousand years by the magic of the ruling vicars. But a threat lurks from a violent past. Wizards from the darkness have hidden their sorcery in a place called the keep and left a trail of clues that have never been solved.

Nathaniel has grown up longing for more but unwilling to challenge the vicars. Until his friend Thomas is taken for a teaching, the mysterious coming-of-age ritual. Thomas returns but with his dreams ripped away. When Orah is taken next, Nathaniel tries to rescue her and ends up in the prisons of Temple City. There he meets the first keeper of the ancient clues. But when he seeks the keep, what he finds is not magic at all.

If he reveals the truth, the words of the book of light might come to pass:

"If there comes among you a prophet saying 'Let us return to the darkness,' you shall stone him, because he has sought to thrust you away from the light."
Honestly, these aren't the usual books I usually go seeking out to read.  I took this book for review mostly because I'm always intrigued by stories where there's a government in power that is controlling the lives of the people they say they protect and love.  I always look for the lies "the powers that be" spin and wait for the lies to be spit back at them by the revolting serfs (huz zah!)  Down with oppression!
In this dystopian tale, the governing body is in the form of a "religion" that seeks to keep people out of the "darkness" by ensuring that everyone follows the rules of the "light".  These "rules" include no free thinking… say what?!?!  As in, no dreaming!!  You have no future, you will live your basic life, have the prescribed number of children you're allowed, and "light" help you if play an instrument other than a flute or indulge in sweets.
But what happens when after 1000 years under strict rule, the young start to dream of far off places?  Dream of stories untold?  To actually have imaginations?  To seek knowledge?
That's what this book delves into: the future rise out of a dark age.  They say history repeats itself…
Setting / World Building
When our story starts, we are transported to a rural village getting ready to hold a festival.  It sounds absolutely idyllic.  Unfortunately, it's all an illusion.  Mr. Litwack does an excellent job describing a village set out in the middle of nowhere.  I pictured something from the frontier days of the old west.
Characters
Our main characters are Nathaniel, Orah and Thomas.  They've grown up together and are best friends.  What I like best about these characters is that each one lends a different voice to the story with their own biases .   Each character is unique with their strengths and weaknesses.  Each character is pretty thoroughly "fleshed out".
This book has many, many points of view and Mr. Litwack switches up the "voice" to match the scene or better describe what is going on in the story.  I personally enjoyed this as it kept the tale interesting.
My only gripe is that Orah didn't act like a typical teenage girl when it came to guys.   Yeah, she had guy crushes.  But she always led with her brain first, heart second.  Me, when I was her age, it was all about the boys!  I guess living a simple existence does that to a girl: has her thirsting for knowledge first, boys second.
Story / Tempo
The story is a pretty straightforward adventure.  It was a fast, easy read.  Although not a nail biter or page turner, it still kept my attention until the ending excitement.
I could easily see this book discussed for a book club.  I don't want to spoil anything for the reader but there are just so many references to our history that it would make for some fascinating discussions.  Plenty of discussion questions could be gleaned from this story!
Overall, despite the fact that I normally don't seek out dystopian books, I really liked this complex story of a society caught up in the latest version of the Dark Ages.
The urge to write first struck when working on a newsletter at a youth encampment in the woods of northern Maine. It may have been the night when lightning flashed at sunset followed by northern lights rippling after dark. Or maybe it was the newsletter's editor, a girl with eyes the color of the ocean. But he was inspired to write about the blurry line between reality and the fantastic.
[spacer size="5″]
Using two fingers and lots of white-out, he religiously typed five pages a day throughout college and well into his twenties. Then life intervened. He paused to raise two sons and pursue a career, in the process becoming a well-known entrepreneur in the software industry, founding several successful companies. When he found time again to daydream, the urge to write returned. There Comes a Prophet is his first novel in this new stage of life.
[spacer size="5″]
David and his wife split their time between Cape Cod, Florida and anywhere else that catches their fancy. He no longer limits himself to five pages a day and is thankful every keystroke for the invention of the word processor.
[spacer size="5″]
[spacer size="10″]
Other places where There Comes a Prophet is available:
Of course, no tour isn't complete without the tour-wide super giveaway (yay!).  There are 10 copies of each paperbacks and ebooks (for you international folk) up for grabs.  So plenty of chances to win!!