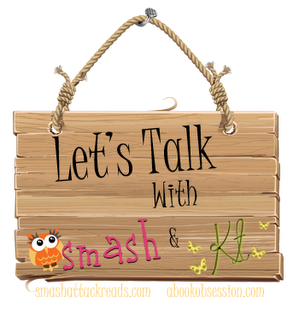 "Let's Talk with Smash and Kt" is a weekly discussion meme that happens every Friday.  Having been started by Melissa at i swim for oceans, it's been passed on to Smash from Smash Attack Reads and Kt at A Book Obsession.  Every week there's a different discussion question that's been posted weeks in advance HERE.  To participate, write, hook up, visit and discuss!!!
This week's discussion: "Do reviews often influence your book choices, or are you someone who doesn't read reviews until after reading the book? (Thank you, Vicky/Books, Biscuits and Tea!)"
This is a great question!  And it isn't as straight forward as it would seem.
For me, there are those books in series that I've been reading for a while; the authors that are near and dear to me, like Kim Harrison, Patricia Briggs, Rachel Caine, Jeanine Frost, Rachel Vincent, Charlaine Harris, Gena Showalter, Kresley Cole, and Sherrilyn Kenyon.  I don't look at the reviews or ratings for those books until after I read the book.  This is pretty easy for me because I'm usually out the door and buying the next book in the series the day it comes out.  I don't care what others think of these author's books.  I know the writing and I know what to expect.
Then there are all those books that I see on everyone's haul posts on Sundays or on their "Waiting on Wednesday" posts.  I never hear of new books any other way.  I pretty much suck at finding the new and upcoming books first.  So if something interests me, I'll go to Goodreads and check to see who out of my "friends" have added the book.  Then I see what the reviews look like.  If from there I can get a feel for whether just on the synopsis and this "research" I've done I'd like the book, it goes on my TBR list in Goodreads.  If I really, really want it, it goes on to my "Wishlist" shelf.
But then there are some books that have reputations behind them that are like car crashes – you just can't help but lookie-loo.  I admit it, I hear juicy drama and I seek it out.  I want to know!  BUT, I judge the book on the synopsis and ALL the reviews, not just the drama.  Yes, authors behaving badly affects my decision to a point.  I can't help it, sue me…
Finally, there are those authors who I've been meaning to read who I just haven't gotten to because… damn it, there is just too much out there to read.  Authors like Lara Adrian, Jennifer Estep, Chloe Neill, and Richelle Mead all have long standing series that I really, really want to start this year.  And I won't even bother with the reviews.  I just know these authors are good – I've seen enough of my "friends" read them to feel safe in buying the books.
So, in conclusion, my answer is yes… and no.  Clear as mud.